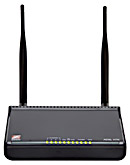 If you haven't yet added wireless capability to your home network, Hevanet has a great offer for you.
Adding wireless will allow you to connect your laptop, iPad, iPhone or other smart phone to the Internet anywhere in your home.
This just released Wireless DSL modem includes the newest wireless "N" technology which provides for broader range and higher wireless speeds.
Upgrade your DSL modem to a new Wireless DSL modem/router for only $69.00. The Zoom X7n wireless DSL modem normally retails for $99.00. During this limited time offer, you can purchase the Zoom X7n for only $69.00 and that includes free shipping!
When you purchase from Hevanet, your wireless modem will arrive pre-configured for your Hevanet DSL broadband account. All you have to do is plug in and go.
For technical information on the Zoom X7n, click HERE.
To order your wireless modem, Email us or call us directly at 503-531-9048. No need to send money, we will bill your Hevanet account.
---