The Actiontec GT701-WG DSL Modem/Router includes a built-in wireless base station. To set up your wireless network, follow the steps below.
Open your web browser (i.e. Internet Explorer) and in the location or address bar type in http://192.168.0.1 and hit Enter.
At the Actiontec Main Menu, click on Setup / Configuration
On the left, click on Advanced Setup
Click on the Begin Advanced Setup button.
Click on Wireless Settings on the left. Select Wireless On. Here you should change the ESSID name. This is the name that will be broadcast and can be seen by you (and others) in the area. You should change this from the default ACTIONTEC. It can be any word, but keep it short and use all capital letters. Leave the channel number at the default. For Security, select WEP. Click Next after making your changes.
On the next page, leave Authentication type as Open. In the Key 1 box, you will enter what is called a WEP key. For a 64 bit key, this will be 5 number/letter pairs. They can be numbers 0 to 9 and letters A to F. Click here for a page that will generate a random 64 bit WEP key. Here is a sample of such a key:
5A 32 2F 73 26 (write the number you generate down for later referrence)
Enter the pairs of numbers/letters with spaces between them. Click Next.
On the Wireless MAC Authentication page, leave the dot on "Accept all clients". Click Next.
On the Wireless Advanced Settings page, leave the dot on Enable for SSID Broadcast and the 802.11b/g Mode as Mixed. Click Next.
Now click "Save and Restart" at the lower left of the page.
Click the Save and Restart button. Your DSL modem will power-cycle and come back online.
Your Actiontec modem is now configured for wireless access. To connect to your wireless network, go to your laptop and open the wireless card configuration utility. In Windows XP, there should be a wireless icon by the clock that will tell you when in range of a access point. Right-click on the icon and select "View available wireless networks". Choose your network name and click the Connect button. You should be able to input your WEP key that you used in the Actiontec. Enter all the characters without spaces.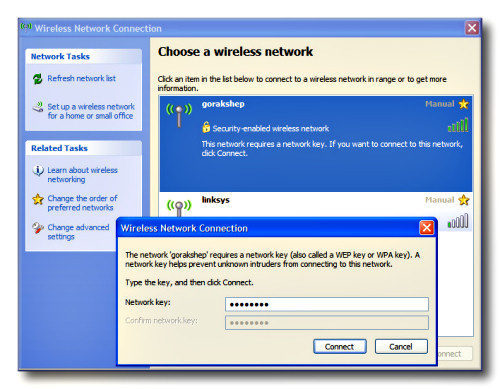 If you use a Macintosh with an Airport card, you must enter a "$" [Dollar sign] as the first character of your WEP key.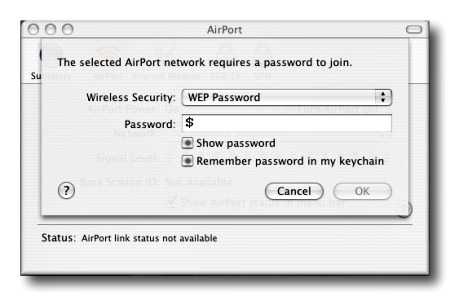 Happy Wireless Computing!


---