For Macintosh or to check from the web, try this page.
Here is a simple method for checking your online hours with Hevanet.
Right-click on a blank area of your Desktop. Point to New, then Shortcut.
In the "Command Line" box, type: telnet hevanet.com Click Next.
For a name, use: Hours or My Hours.
Click "Finish".

Now, when you want to check your hours, simply double-click your shortcut. A telnet window will open on your screen. If you are currently connected online, a login message from Hevanet will appear. If you are not online, your modem should dial and connect you.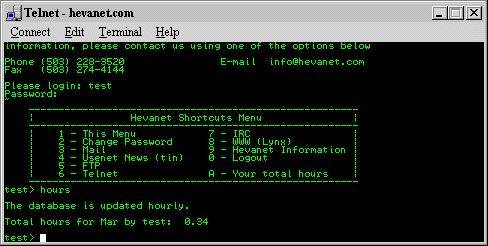 At the "Please Login:" prompt, type your Hevanet logon name, then your password. Type "A" or "hours" at the prompt and then Enter. Your hours for the current calendar month will be displayed. When you are finished, type "0" or "lo" to log off.

---