Note: For older computers, please use FTP Explorer

The best tool for uploading and then working on your web pages is a FTP program. If you don't have one, you can download FileZilla

Before you start:E-mail Hevanet and request a web directory for your webpages.

After you have downloaded and installed FileZilla, open it and go to File and choose Site manager. You will see the following: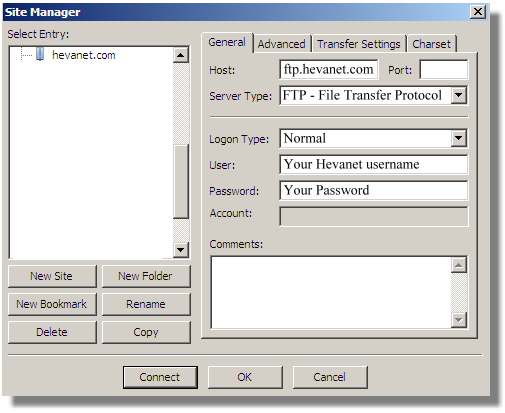 Fill in the information to match above - of course with your username and password.

Then click on the advance tab and you will see the following: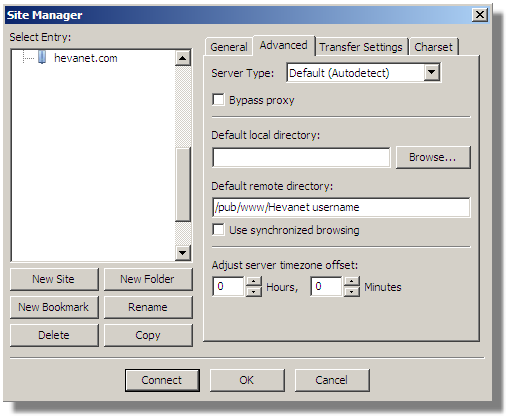 Substitute the "Hevanet username" with your username above and then press connect. Now you can simply copy files from your computer on the left to our server on the right.

Your webpages address will be hevanet.com/yourusername


Special Note for Netscape Gold or Communicator users: Netscape Gold and Communicator Composer have built-in Web page Editors which are very easy to use. They also has the ability to upload your pages to Hevanet. Therefore, you do not need a separate FTP program. The first time you upload your pages (to your home directory), use as the publish location:

Netscape 3.0: ftp://ftp.hevanet.com
Netscape 4.0: ftp://your_login@ftp.hevanet.com/home/your_login/

Later, when you want to upload to your Web directory, use the following as the publish location:

Netscape 3.0: ftp://ftp.hevanet.com/pub/www/your_login/
Netscape 4.0: ftp://ftp.hevanet.com/pub/www/your_login/

Use your login name and password in the spaces provided.

Note: you may want to download the FTP program as well. It will allow you to do certain file maintenance functions (rename, delete, etc.) in your Web directory.

Mac - Upload Web Page
If you don't have Fetch, you can download it from www.mac.org Use the "fetch" FTP program to transfer web pages. Connect to ftp.hevanet.com using your login and password and leave the starting directory blank. This will connect you to your home directory. Use the put button to upload the pages. Don't forget to send an e-mail to support@hevanet.com with a list of all of the web pages that you uploaded.
Many users would like to upload some pictures for one of the Online Auction services. (Ebay, Ubid, etc.) You do not need to have any actual web pages for this, but the steps are very much the same. First, upload your pictures to your "home" directory and send us an email. We'll create your web space, copy your picture to it and turn it over to you.
When asked for the URL to your picture, the format will follow this example:
http://www.hevanet.com/username/picture01.jpg
The username will be your Hevanet login name and the picture01.jpg is of course your particular picture file. (It does not have to be named picture01.jpg)

Please review your picture files and see if there are some compression settings that will reduce the file size without compromising image quality. Keep in mind that those trying to view the images require 1 minute for every 100K when using a 28.8 modem.
Good luck on your Auction!