Meetings with my wonderful cyber friends!!!
These are some photos of the people who have come to meet Mike and I and our family. Some of us met almost 3 years ago on the "horsey" email lists. I don't have all the pics scanned yet of the photos taken with regular camera, but the ones you see were taken with my digital...please enjoy this page as much as I enjoyed all these wonderful people...!!!!! I hope to meet many more in the near future.
---
---
Cheryl Hassle Baker
"Buck and a Quarter Ranch"
Michigan
Visited us in March 1999
This is Cheryl and I at Timberline Lodge at Mt. Hood in Oregon. My friend Denise and I took her there for lunch one day...we had a great time...I have more photos coming of this trip.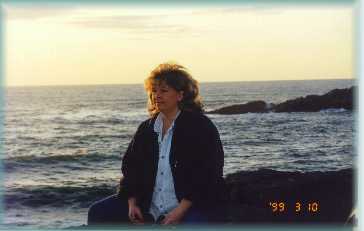 Here's Cheryl when we visited Depoe Bay on the Oregon Coast...she loves the ocean and this was her first site of the Pacific...it was a dear site to her as she had been raised on the Atlantic and missed the ocean so much. She lives almost on Lake Michigan which is an ocean in it's own right...!! But she says "not the same".
Cheryl breeds and raises beautiful buckskin quarter horses back in Michigan and has a beautiful buckskin stallion, she calls him "Spinner". He has done well on the show circuit and has many titles....and his offspring do well in the show ring. They also sell very well as most everyone of the foals is a sought after "buckskin"! Cheryl will be back here to visit, as she has already told me this and I do plan to go see her in Michigan. I want to go in the winter when the snow flies...it sounds so neat that time of year...!!!
---
---
Bob & Barbara Rubbert
"Rubberts Quarter Horses"
California
Visited us in June 1999
This is a photo of Bob and Barbara's pickup and adorable travel trailer. It looks like it's sitting in the middle of a pasture...it's not..it's on the other side of the pasture in a mowed area...if was so nice to see them in the mornings when I went out to feed the horses...and we had our coffee in the mornings together. We would then do some running around and come back to our place and sit and visit and tell our horsey tales....and Bob has some wonderful tales to tell. He is a very knowledgable and still working, riding "REAL" cowboy!!!
There he is...."Bob" and his sweet and adorable wife "Barbara" who we all get to visit with on our cyber Trail Riders email list....it's like they are still sitting here in the family room when I see this photo of them...we did have a great time and they will come again..I hope. I plan to get California to see them as soon as I can put a trip together and we are all slowed down a little, oh and when the temperatures go down in California...LOL!!! Bob and Barbara own and operate a small breeding farm of well bred cutting horses...and they stand a nice stallion they call "Little Bit". His registered name is... This stallion and the few select mares that they raise babies from produce some outstanding foals each year. If your interested in breeding a mare to this beautiful stallion talk to these fine people and get it going!!!!!
---
---
Sandy Viggette
Traveling Cowgirl
N. Dakota
Visited us in July 1999
Pictured above is "Cody", Sandy's sweet little mare...in her stall in one of our barns...as you can see she was very content and we made sure she had plenty of fresh good hay and water while she was here. In the same photo to the right and the photo below is Cody's traveling buddy and Sandy's wonderful gentle "Tony". He also looks quite content and was....he is doing what he lives for....eating..LOL!!! Tony is quite "buff" and is about 4 feet wide...haha!!! He is sooooo sweet. He got the whole time off while he was here, as he had thrown a shoe before Sandy got here. We got him shod the day before they left...but we were already riding at the time..so Cody had to do all the work for the 2 days we went on our trail riding adventures..as you'll see as you scroll down the page. Tony however did have to be ridden in the soft arena and get some retraining from Sandy...but we had fun in there going 'round and 'round. Sandy's first real experience at riding in circles...haha!!! She says she really enjoyed it and it did wonders to correct a few of "Tony's" spoiled behavior problems he had developed from other people riding him and letting him have "his" way...!!
OK..the next photos are on the trail ride...
....the first ride was an hour trailer ride from our place and I stuck all five horses in my "4" horse trailer...could've put another one in...away we went. We went to a trail called Molalla Forest Corridor. Nice trail until we hit the bee's in a nest under ground. But eveyrthing that happened, Sandy referred to it as an "adventure"...and she was right...adventures
indeed.!!!
Ok...from front to back...Julie and her horse Nicker..a long time friend and boarder...she has been with us since she was 13 and her horse was 4...she is now 26 and the horse is 17..guess that adds up right...haha!! As you can see, Nicker is a great trail horse...LOL, how many do you know that have to be looking behind them instead of in front, keeping an eye on the possible obstacles that could lie ahead...LOL, thats our Nicker boy....the dork..hahaha, but you gotta love him!!!! Next, to the right of the picture is Jenny, my friends 16 year old dauhter..riding Wee-Paw, her POA gelding...since their other horse hadn't been shod she rode this colorful little guy. The person sticking out to the left is "SANDY" on her sweet Cody mare..and last but not least was Jenny's mom....my long time friend on her horse Pima...a son of our stallion.
Left to right in the above pics are my horse Clyde's lovely rump and tail...SANDY and Cody, and Wee-Paws colorful cute rump...the next is SANDY and Cody, Wee-Paw again and Denise and Pima. Below are Nicker, Julie, Jenny and my horse Clyde...softies even sweated..but I think it was the bee encounter...I was sweating from that one myself and I think Sandy did too..we we're bringing up the rear and those bee's were mad by the time we got to them...eeeeks!!!!
Below is a pic of Sand's famous horse trailer...heck, it has so much character, we missed it when she left...!!
---
The next bunch of pics are the day we went to the Oregon coast...the wind was blowing 25 to 30 mph and as you can see Sandy's hair doesn't move....it was too short to..LOL!!! We loaded 4 horses up in my trailer and we hooked it to Sandy's truck..she was tired of driving and just relaxed as I drove the couple hours to the spot at the beach. We went to Nahalem where they had some really nice horse camp sites...but we only stayed for the days ride. It was great as you'll see while scrolling down throug the pics.
---
This is Sandy and my daughter Tami
---
Sandy and Cody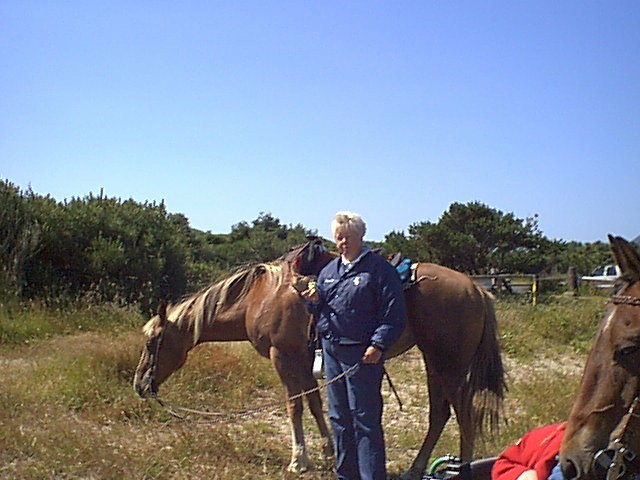 ---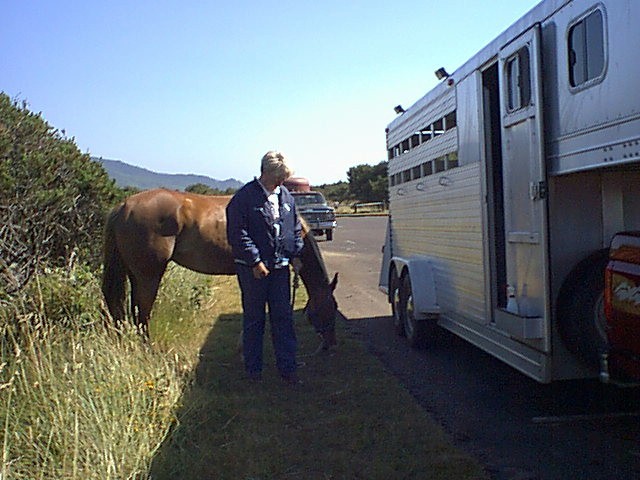 Sandy and Cody
---
Sandy and Cody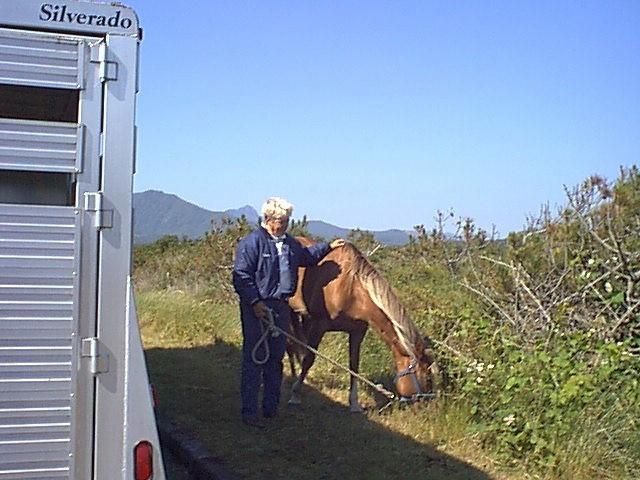 ---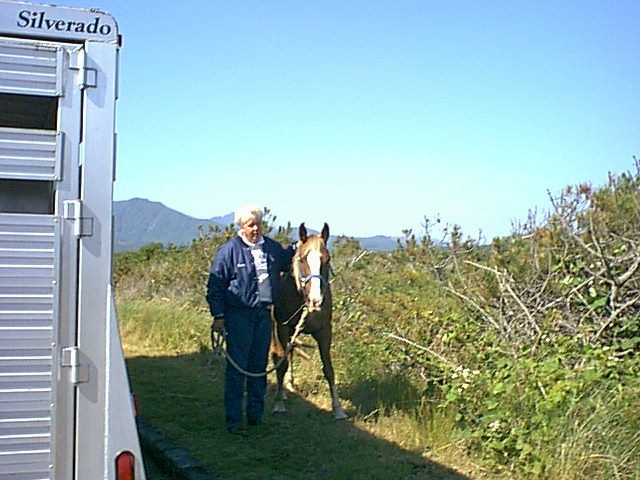 Sandy and Cody
---
Nicker, Sandy/Cody, Tami/Sally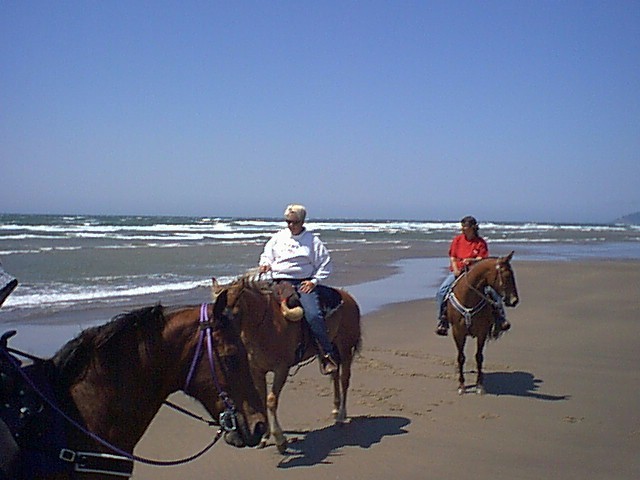 ---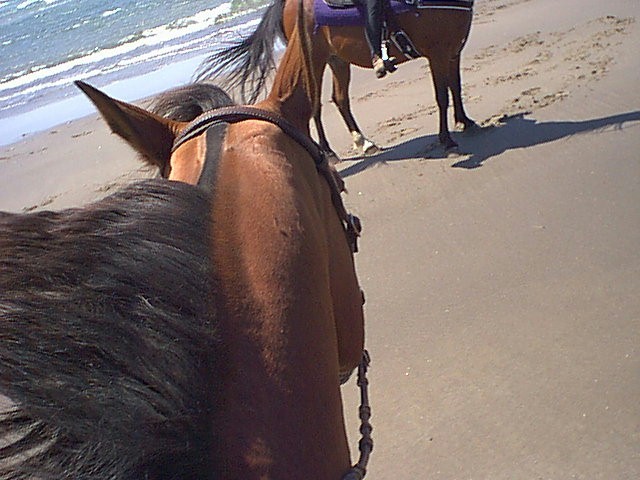 This is my horse Clyde...the wind was blowing his mane almost to the other side of his neck..!!
---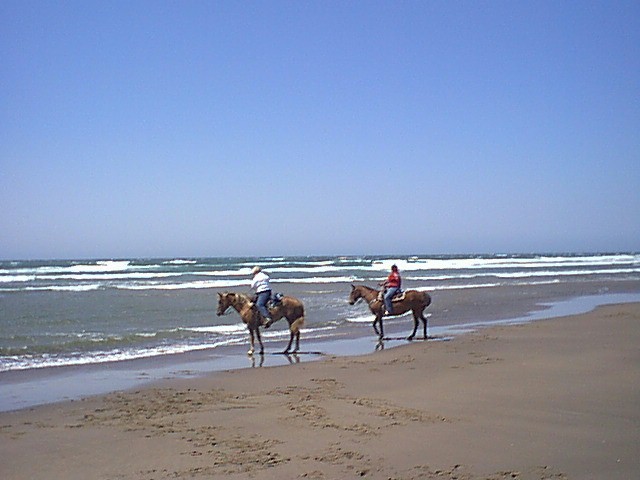 Sandy/Cody, Tami/Sally
---
The horses ran sideways here!!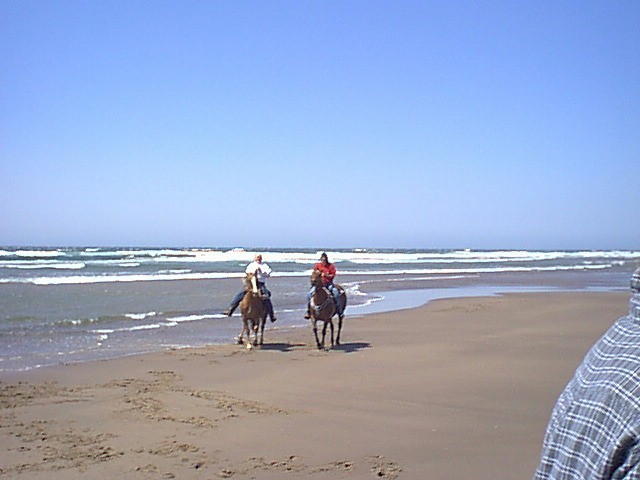 ---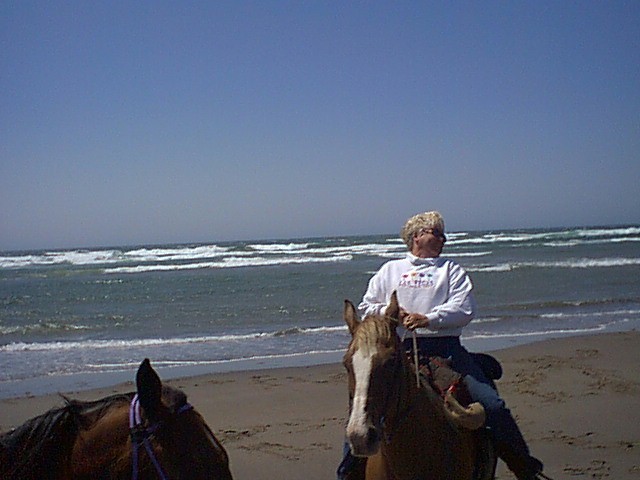 Guess who....??
---
Gee, there they are again!!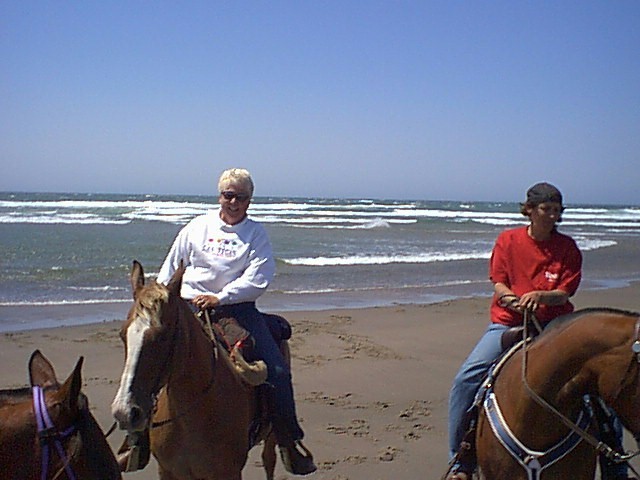 ---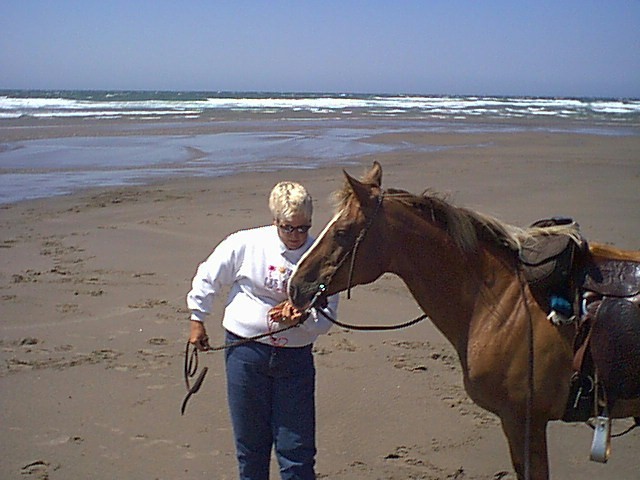 Sandy trying to get Cody to drink water from her boda bag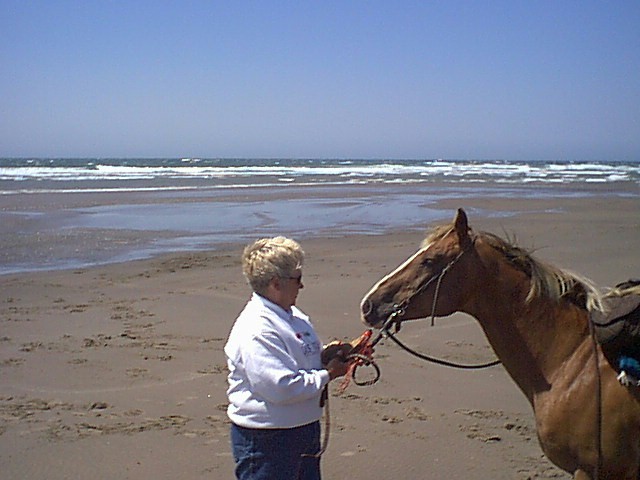 ---
Nicker, Clyde and Sally resting after the ride.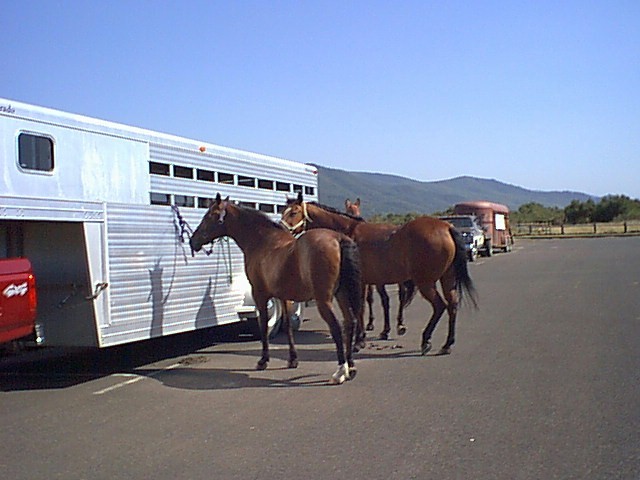 Nicker (left) is Juli's horse 1/2 arab 1/2 Morgan. Clyde in the middle is AQHA and he's my horse, retired polo pony. Sally on the far right end is Tami's AQHA mare...a 23 year old retired rope horse.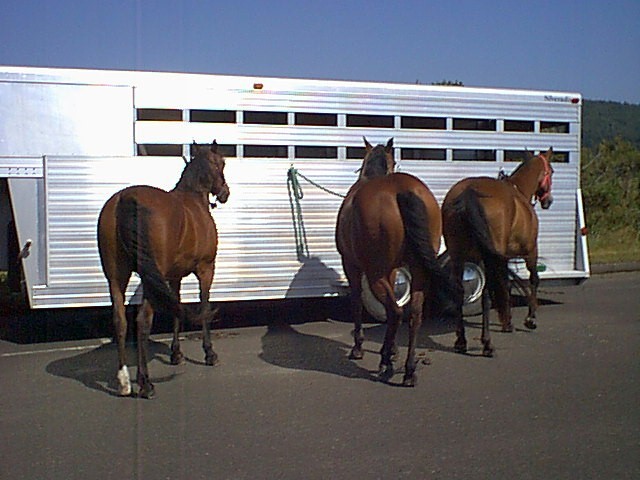 ---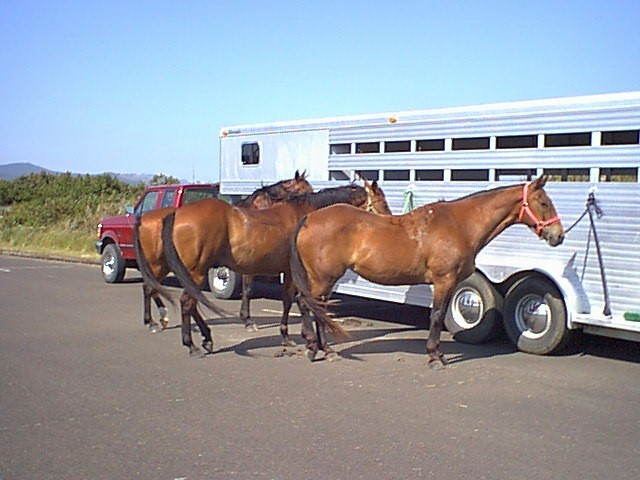 ---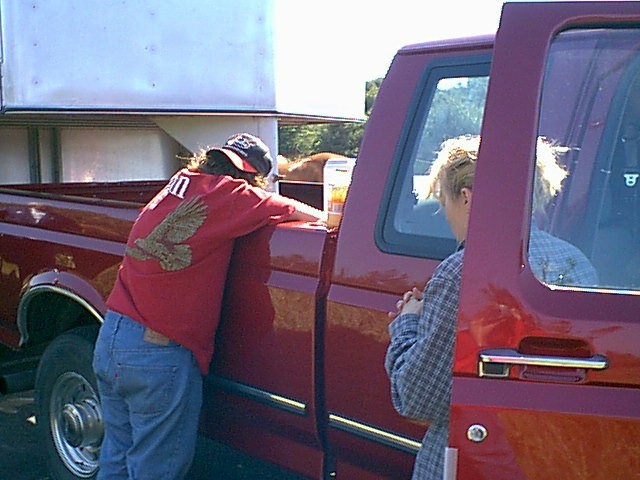 Here is Tami and Juli at the truck gettin' in on the food and pop after our great beach ride.
---