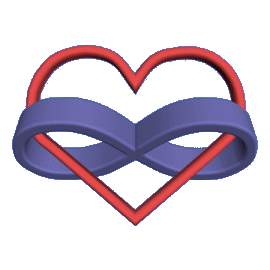 A List of Poly Symbols
. . . with a little bit of their history
---
Please do not assume that these images are public domain unless so specified!
I do not want to commit, aid or abet copyright infringement.
Also, I am aware that several of the links below (especially Jette's) are currently broken. If you are aware of correct new addresses for any of these missing sites, please let me know.
Here we go . . .
variations on Parrots
The origin of using parrots to represent polyamory is fairly obvious: "Polly wanna cracker?" I have not been able to trace who first came up with the idea, though; the first entry below is the earliest reference I have. I imagine that it was generated independently by many different people. Current versions include:
variations on Heart-and-infinity
variations on Pi-and-the-three-colors
miscellaneous
---
Return to my main poly page
(Last updated 5/11/02002)